10 July, 2009

IGN has just posted
a list of their favorite community-made maps for Left 4 Dead
. We mentioned last week that L4D is about to get an upgrade that will make it easier to find and install this kind of content -- but why wait? Get the jump on your neighbors and be the first to check these out. They also mention
l4dmaps.com
, which has more than enough fun to fill your weekend.
Also, to make your weekend a complete L4D experience, you can also zombify Steam itself using
this new L4D-themed Steam skin
created by
Ryan Thaut
.
---
The excellent Source engine MOD
Age of Chivalry
has recently implemented the collection and display of gameplay stats. Now you no longer have to wonder
whether you're more efficient as a Man-at-Arms or a Longbowman
- just check your stats! Also, it's now
so easy
to see
what percentage of players have managed to be decapitated 100 times
, earning them the achievment "Just a Flesh Wound!"
---

Hey. Are you on Facebook?
Become a fan of Steam
!
---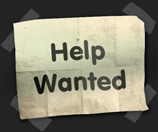 Are you an experienced interactive designer and an excellent visual communicator? Come work at Valve and help us
design
the next generation of awesome games and entertainment software.
---
All copyrights herein are property of their respective owners.